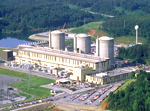 Reactor Operational Experience Results and Databases
2015 results are now available.

This area contains updated results for a variety of previously published studies conducted by the office of Nuclear Regulatory Research.
The numerous component and system reliability and trending study updates of industry performance will now be performed and reported every other year instead of yearly, as in the past. The next update of these studies will be based on the 2016 calendar year information and will be available in 2018. The loss of offsite power and initiating event updates will still be performed and made available yearly.
What's New in the 2015 Update
Summary of Significant Trends for 2015
Overview and Reference
Parameter Estimates
Trends and Insights
Supplemental Information
Databases and Programs
Page Last Reviewed/Updated Monday, March 27, 2017